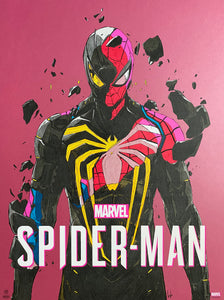 Plush Art Club x Grey Matter Art
01.000V: Marvel's Spider-Man Second Anniversary Variant Edition by Chun Lo
Regular price
$77.77
$0.00
All sales are final. No returns. No Exchanges.
Limit 1 per person / household within the first week of release.  
Artwork by: Chun Lo
Run Size: Limited Edition of 100
Printing Technique: Silkscreen | 9 Colors | Metallic Inks | Varnish Finish | Metallic "Spider-Silk" Stock
Dimensions: Approximately 18"x 24"
Published By: Plush Art Club in collaboration with Grey Matter Art
Officially Licensed by Marvel
Release Date: Monday September 7, 2020
In commemoration of the second anniversary of Marvel's Spider-Man, developed by Insomniac Games and published by Sony Interactive Entertainment.
 --
"For the piece I really wanted to emphasize one of the most impactful moments of the game for me. In the ultimate confrontation of the game Peter (Spidey) is faced against Doctor Octavius(Doc Ock) in one of the coolest video gaming sequences I've seen in a while. Now this certainly isn't an odd occurrence for those that know the source material, but in this universe the two had a very close and trusting bond working together and helping those in need. By the end of the confrontation you could see just how much this betrayal rips and tears into Peter, both figuratively and physically. I really wanted to capture that torn moment and tense energy in the illustration as well as reference "The Amazing Spider-Man" movie poster which I was fond of. Also going to be honest, ever since I saw the Anti-Ock suit I wanted to draw it. So this was the perfect excuse!" - Chun Lo
---