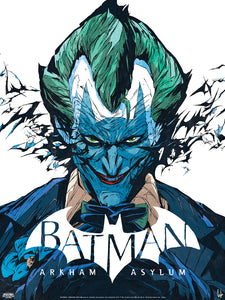 Plush Art Club x Bottleneck Gallery
01.002: Batman: Arkham Asylum by Chun Lo
Regular price
$60.00
$0.00
All sales are final. No returns. No Exchanges.
Limit 1 per person / household within the first week of release. 
Orders will start shipping the week of April 27th.
Notice: There will also be a variant edition released at a future date. Sign up for announcement details here: 
https://plushart.club/pages/become-a-member or follow us @plushartclub on Instagram, Facebook or Twitter.
Artwork by: Chun Lo

Run Size: Limited Edition of 250
Printing Technique: Silkscreen | 15 Colors | Varnish Finish
Dimensions: Approximately 18"x24"
Published By: Plush Art Club in collaboration with Bottleneck Gallery
Officially Licensed by Warner Bros. / DC Comics
Release Date: Friday April 24, 2020
--
Released during the celebration of the 10th anniversary year of Batman: Arkham Asylum and the 80th anniversary of the Joker. 
"I was honored to have had the opportunity of illustrating a print for Rocksteady's Batman: Arkham Asylum. It was one of my favorite games growing up, featuring by far my favorite superhero, Batman. The game was extraordinarily faithful to the lore and characterizations, especially to the Dark Knight's Rogue's gallery, yet it didn't fail to surprise with it's own original vision. A standout design I felt was Joker's, one that was so familiar yet unique for the series; with the 80th anniversary of the character coming up, I felt what better way to celebrate than to illustrate the Clown Prince of Crime officially. For the piece, I really wanted to show the Joker as the chaotic, scheming, maniacal presence that he is. Despite Batman's looming shadow over him you can still tell he was in control of what's to come. It was a complete joy to illustrate the Joker and for those avid Arkham fans out there I'm sure you'll be able to pick out a surprise in the details." - Chun Lo
---